NB: This and the one that follows are specially timed posts, as Duran Duran will be performing at a special late night show at the Kennedy Space Center this coming Tuesday night as part of NASA's Apollo 11 moon landing celebrations (preview on TGTF here). It is just about killing me that I cannot attend, not only because I am a Duranie, but because NASA and Duran Duran have a special connection for me.
My father worked at NASA Goddard for most of his career as a physicist, and he was well aware of my Duran obsession when I was in college. A few months before I graduated, he asked me what I wanted for a graduation present. Most other kids would have asked for a car or money. I asked for a trip to Japan to see Duran Duran play, and he took me to Tokyo to do just that. My father passed 15 years ago and while he is no longer here physically, my bet is that he'll be at the show in spirit because he knows how much they mean to me. He'll probably be doing his silly made up dance that he would always trot out when I was home on the weekends and I was blasting one of their tunes in the house.
I am currently taking stock of past experiences and relationships while I am putting together the stories and chapters that will eventually lead to my compilation of a memoir. Over 5 years ago, I did an analysis of a Duran Duran song from their 1993 self-titled LP that everyone knows colloquially as "The Wedding Album" so to not confuse it with their actual debut album, also self-titled. The song I had chosen at the time was 'None of the Above', which I used to play at very high volume in my dorm room. It was one of my personal psych up songs, something I would use to give myself confidence, as when I was young, confidence was in very short supply.
I have been thinking about Duran Duran in the last month. Somehow it had passed me by, or perhaps somewhere along the way I had forgotten that John Taylor had written an autobiography in 2012. Back in May, I devoured it in an evening, and my thoughts on the book are on yet another one of my blogs over here. Like many fans over the years, John was my favorite. I was 19, the internet was here, and you could lose yourself online in '80s photos and pretend you were there when the adorable John Taylor in his early 20s was making girls cry around the world. Unfortunately, at the time I became a fan of the band in 1999, John was no longer part of the band. Although I quickly and easily became a fan of his solo work, I needed to choose another favorite band member. I settled on his best friend Nick Rhodes. Who doesn't love a dapper, brainy musician with a mischievous sense of humor?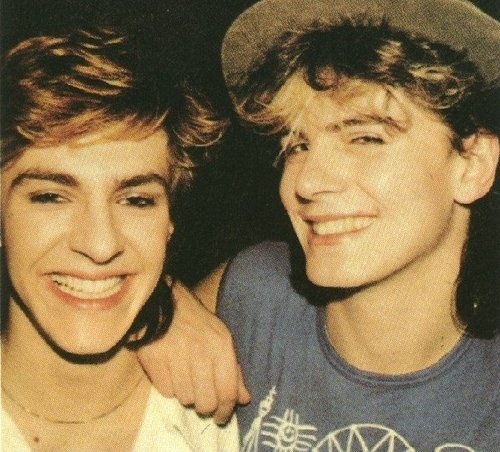 for 5 years 2 decades ago, these were the two most important men in my life
Over the last 2 weeks, I came to the realization that although I had been a Duran obsessive in the early 2000s, I have been giving their singer and lyricist Simon Le Bon short shrift all these years. I had been looking at the band and their contributions as a whole and when I wasn't, I would focus on John's bass playing – simply incredible (most bass players speak of 'Rio' but check out with 'Last Chance on a Stairway' – !!!) – or Nick's keyboard stabs and arpeggios because I had played piano for years. I guess it never occurred to me to focus on Simon because well, being the lead singer, it seemed like he wasn't exactly starving for attention, right? The post that follows in an hour hopes to address and make up for my egregious oversight all these years.
To understand 'Proposition' and 1986's 'Notorious' album, you first need to consider the enormous pressure Duran Duran were under. It was a difficult record for Duran Duran to make, to say the least. 'Notorious' followed the monumental commercial achievements of 'Duran Duran,' 'Rio,' and 'Seven and the Ragged Tiger', all of which were global successes. But no band can stay on top permanently. It is impossible. If you know anything about the band's trajectory from when they started with the classic lineup in 1978, then you are aware that from 1979 to 1984, they didn't really ever slow down.
Everyone wanted a piece of them and when you're young, hungry, and eager to make it, you make the mistake of thinking you have to say yes to everything. By the time 'Seven…' was released, they were all pretty cheesed off of where the fame machine had gotten them. They were run off their feet by contractual agreements, and they couldn't step outside of the house without getting mobbed. They were not enjoying the hurricane of fame they now found themselves in the center of. Some of the band dealt with it better than others. John's coping mechanism was drinking a lot and doing a lot of drugs.
I did not know until I read John's book that it was their managers Paul and Michael Berrow who decided to kick 'Duran Duran' and 'Rio' producer Colin Thurston to the curb for album #3, not the band. American Alex Sadkin, who had made his name producing Grace Jones and Bob Marley, was given the keys to the studio, along with Ian Little, who had produced earlier UK chart-topping single 'Is There Something I Should Know?' The band thought that they needed to mix things up for creative reasons and to stay vital in the industry, and 'Seven…' certainly moved the needle for them. Most original Duranies I know love the album; I can take it or leave it when I consider against some of their later, less famous albums that I think are infinitely better. I think the best thing about 'Seven…' is the back cover art (sorry for the quality, but check out that gorgeous painting):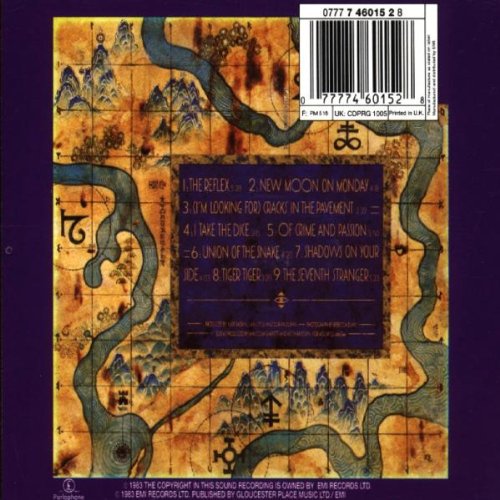 'Notorious' was the first release of the 'big three' era of Simon, John, and Nick. Following Live Aid, drummer Roger Taylor left, citing exhaustion. Lead guitarist Andy Taylor was no longer part of Duran Duran but for a much less sympathetic reason: his personal talent being built up by the music industry in Los Angeles, he was persuaded into a solo career, but not before he had strung Simon, John, and Nick along, making them think he would return to them to work on Duran Duran's fourth album. When they finally realized he wasn't coming back, there was reasonable anger. To this day, some fans, including myself, have an axe to grind with Andy over this.
Given the internal turmoil in the band, it isn't surprising that the 'Notorious' sessions led to a collection of songs that had a negative bent. If you look hard enough in the lyrics, all of them have sinister connotations. Title track 'Notorious' addresses the tabloid rumor mill and takes a side swipe at Andy for good measure ("Who really gives a damn for a flaky bandit?"). 'Skin Trade' was Simon's way of explaining that as humans, we all whore and sell ourselves out, one way or another (the band talk about how it was made here). 'Winter Marches On' is a dirge. 'So Misled' is obvious, isn't it? 'Vertigo (Do the Demolition)' is a song about drug use and Simon sings, "do the dance, do the demolition / and lose the chance to hear 'cause you don't listen," as if something needed to be blown up and destroyed before any real change was to occur. Was Simon being reactionary against the industry who no longer wanted anything to do with Duran Duran, who they now considered washed up after their fans' initial hysteria? Was he pissed off about what had happened with Andy and Roger? Or was he frustrated that one of his best friends, John Taylor, was losing himself to cocaine? Probably all three.
On most days, 'Notorious' is my favorite Duran Duran album. I admire them for taking a bad situation, figuring a way out of it, and coming up with a set of thought-provoking, toe-tapping songs that sounded nothing like their earlier albums. With the richness of the tracks owing to production by Nile Rodgers, the addition of a brash brass section, and their willingness to experiment, it's the turning point at which I say Duran Duran, now a trio, grew up. Last track 'Proposition' was always my favorite.
"Blown by the wind of reason" from 'Proposition' was one of my favorite lyrics of Simon's; I used it as the title of the essay collection page of the Duran Duran fan site I had built on Geocities, working on it late at night at school. (I'm sad to say that I think I didn't bother to pull the text from my essays on the band before Geocities went bust in 2009. If I have them, they're on an old 3.5" disk somewhere in my house.) 'Proposition' is powerful and catchy at the same time, so what's not to love? The original Duranies may have hated it, but the band could do no wrong in this era in my eyes. As I entered my 20s, I had drawn up a backstory to the song in my mind, that Simon was singing about Eastern Europe during the Cold War and the sacrifices women made in those desperate times. Remember, the Berlin Wall didn't fall until 1989, 3 years after 'Notorious' was released. Maybe with all the coverage on the atrocities in Kosovo in 1998-1999 on the news had affected my young mind.

Song analysis on deck for 11 AM this morning EDT. Stay tuned…