I've had a lot of things on my mind. I haven't been a very good Webmistress here, and I'm sorry about that. It hasn't had anything to do with lack of ideas; I'm constantly in the car, listening to a song, thinking, "gosh, that'd be a great song to analyse for Music in Notes…"
At TGTF, it's a completely different story. We've been busy with SXSW 2016 post-event reviews and features but we're about to put the final post (the 127th!) to bed.
Some stuff went down in Austin on Thursday and Saturday that shook my faith in humankind (broadly) and the music festival format (specifically). As those of you who have followed me on TGTF, PopWreckoning, and DIY over the last 7 years I've been a music journalist, I have been to a lot of events all over the world, including 5 SXSWs now. I consider it a great opportunity to be given the chance to go to Austin to cover SXSW.
I suspect what happened (both incidents) happened because of my size (I'm barely 5'3″), my race, and my gender, all of which likely contributed to the idea I was an easy target. I don't want to make this a feminist issue, because I'm not a fan of that term. I'm probably going to be strung up for this, but I'm into equality and all people treated fairly. There needs to be more peace and love in this world, people listening to one another and having open minds instead of shoving their values down someone else's throat.
But that doesn't seem to be the case if you're keeping up with any of the U.S. presidential election coverage. Living in DC with wall-to-wall coverage of the march to November, it's felt like a pressure cooker, and SXSW offered a nice respite from all of that. Some people say to me, "it must be really amazing to live in Washington, where all the movers and shakers are!" Yes, if you're inclined in a certain way, it is. As I get older, I've noticed how less and less I engage in what's considered "proper" DC conversation (read: I haven't dated in forever). I mean, come on, this was on display on the windows when I went out to eat not too long ago…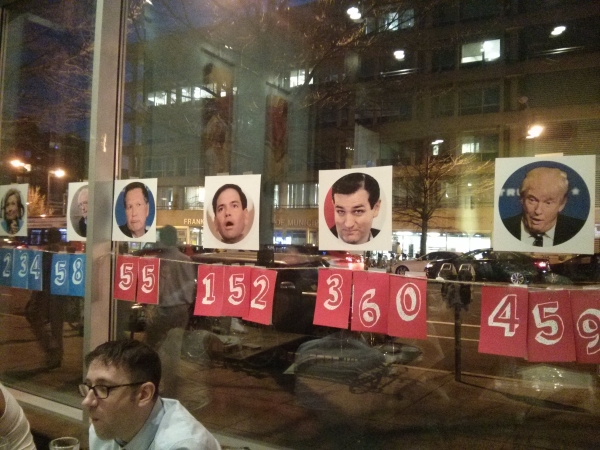 Last week, I was given a unique challenge that will see my artistic talents going in a different direction. I'm both excited and terrified by this new project / thing, what will come out of it, and what other doors it will open for me. Some friends have more faith in my capabilities than I do in myself, and the support they've put behind me in this new endeavour is and will be invaluable. It couldn't have come at a better time.
I love the fact that no matter how I look to people on the outside – the automatic stereotypes people have had about me as I walk into a room or walk down the street, or when they meet me in a club – they won't matter. These people and their incorrect, dangerous stereotypes won't dictate where this is going to go.
Being treated as an equal. Respected as someone who has something new and different to the table. These are the things that are priceless.
This isn't the end of Music in Notes, but I foresee this taking a lot of my time in at least the next 3 to 6 months.
Until next time, stay sweet. x